Back to Previous
The Unforgettable 90s: Awesome Indie bands of 90s that we need more of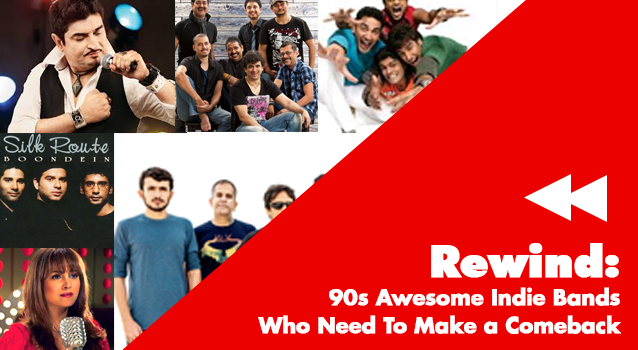 Taking a slow walk down the memory lanes that leads to the good old days of the 90's, I am filled with a sense of glorious nostalgia and profound longing for the past.. Ah! What days they were! The easy-breezy lifestyle added to the austere mind sets of people coupled with magnetic TV shows and mesmerizing music, 90's was undoubtedly the best of all times.
90s gave rise to some of the most striking, memorable and inspiring artists in the music industry. When I think back to those days, I can't thank them enough for laying the foundation of Independent music amidst the worrisome crisis of opportunities and platforms. Here is a list of some of the most inspiring and loved bands from the unforgettable 90's which we need more of today!
#1. Band Of Boyz
The first all-boys band in India that swept all ladies off their feet with their cute and foxy looks, has given us chance to tap our feet to some of the coolest songs of all times. Their first album – "Yeh Bhi Who Bhi" consisted of some of the swooning tracks that I still can't get enough of! 'Meri Neend' and 'Gori' have actually never left my playlist. 
#2. Silk Route
The talented Mohit Chauhan whom we recognise today with his melodious "Yeh Dooriyan", "Tum Se hi" or "Kun Faya Kun" had in fact, begun his musical journey with Silk Route. He along with Atul Mittal, Kem Trivedi, Kenny Puri and many others had created a huge buzz in the industry with their stellar tracks like "Boondain", "Sunny Sain", "Pehchaan", "Dooba – Dooba" etc. The best part about the band was its use of diverse musical instruments that gave it a striking presence among its counterparts. Refresh your memories with this track right here: 
#3. Strings
This ensemble of musical prodigies from Pakistan had acquired widespread recognition and fandom in the first few weeks of the release of their debut album – Strings. Even today, their poetic tracks and the stringed rhythms have inspiring fan-following and devotion. It can be rightly said that this Pakistani Pop rock band had laid the foundation of Pakistani Pop music and had created a wave of ingenuity and progressivity in the Pakistani Music Industry. Check out one of their best tracks right here:
#4. Aryans
Aryans can be rightly called as the first musicians in this industry who set the benchmark for Indie Pop Music scene in India. We still can't forget that melodies tune and Shahid Kapoor's youthful looks from "Aankhon Mein Tera Hi Chehra". Coming together from all parts of the country this band has an enviable record of more than 250 live concerts under their belt. 
#5. The Colonial Cousins
The musical duo comprising of the musical stalwarts like Hariharan and Leslie Lewis had stirred an impelling furore in the industry with their album – Colonial Cousins. The album achieved the coveted feat of "Platinum Sales" in India alone. Their tracks were an expert styled fusion of Western and Indian melodies; and of course, the result was a fresh and off-beat rhythm that we would all fall in love with instantly! Listen to one of their top tracks right here and stir your pot of memories
#6. Bombay Vikings
Remember the Hinglish version of "Woh Chali Woh Chali" or "Chhodh Do Aanchal Zamana Kya Kahega"? That perfect melodies blend of Bollywood and Classical music, "Bombay Vikings" was formed by Neeraj Shreedhar in the year 1994 in Stockholm, Sweden. I still can't forget the stellar popularity of their debut album,-"Kya Soorat Hai". The incredible mix of Indian and European rhythm in their tracks still leaves me speechless. Check out this popular track of Bombay Vikings right here and muse on a decade that can never be recreated!
#7. Euphoria
This Delhi based Rock band spearheaded by Dr. Palash Sen is my personal favourite. The band has given such splendid tracks that you cannot get over with. Euphoria has made songs that make you fall in love with them every time you hear them. I had a tough time choosing my favourite, especially between 'Maeri' and 'Kabhi Ana Tu Meri Gali' with both of them being such special tracks. But I had to go with 'Maeri' 
These are just some of the bands who have forever captured a space in our hearts. With Euphoria and Strings making a come back I have my fingers crossed for the others to follow suit. 
Who else do you think should be added to the list. Comment and tell us your favourite 90s band.