Back to Previous
The 2019 Checklist For Your New Release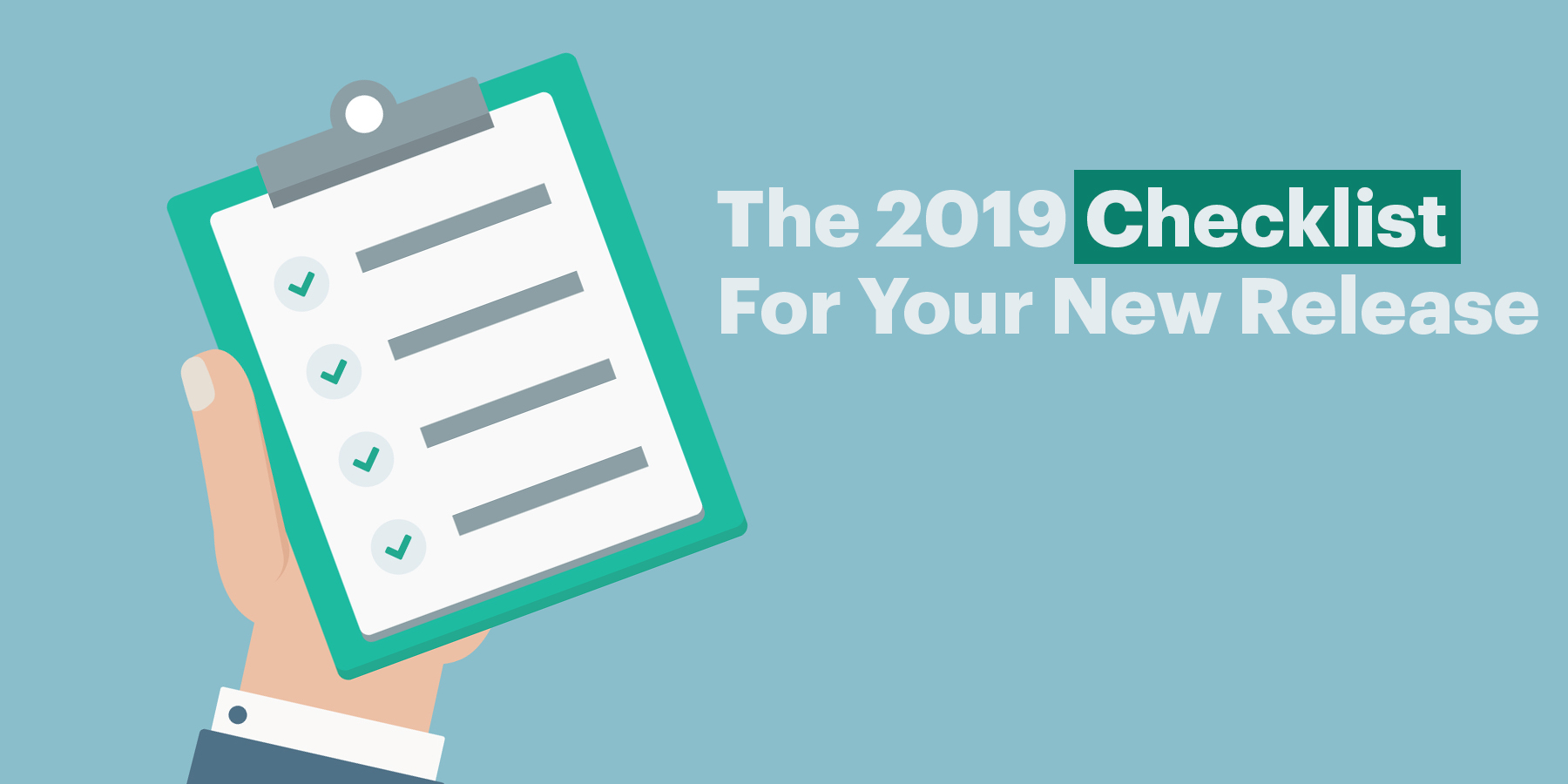 You have been working diligently for the past few months, your album is articulately mixed and complemented with a beguiling soundtrack. An artist has designed a lovely cover art, perfectly portraying your inhibitions. You're all geared up and exhilarated for the next stage until you're intimidated by the feeling of your next album release.
There's nothing more loathsome than feeling totally inundated by the release of your next album to the mark that it outweighs the excitement of what you may consider as your best work till date! When you're almost ready to win people's heart over by unveiling your next album, the last thing you want is scrambling through dozens of plan to make your album successful.
While you may want to stick to your old checklist for convenience sake, you will never be able to hit the right note with it. Nothing is certain in this fast-paced world, and if you don't wish to fall back in this rat race, then you need to get yourself updated with the latest checklist. So, if you're feeling a little zoned out and can't make proper plans, then it's time to take a deep breathe and read further to know more. And remember not to rush anything!
1.)   Build a presence on Social media
You can make the best music, outdoing all the talented artists out there but what's the point if 1/3rd of the population is still unaware of what's being offered by you? It's clearly evident that the world is racing towards social media, with online music platforms dominating music discovery. It's time to lay out plans for making a strong social presence, and personal interactions with your fans.
A Little Tip: Social Media is about engaging with your fans constantly and consistently. Make sure, you are actively using your profiles atleast 2 months before the release and don't stop after it.
2.)   Promote it on TV
Even though social media and digital are the buzz words these days. Nothing meets the reach of Television. With TV viewership rising at a staggering rate of 7.5% each year, even after Netflix's arrival; this medium should top your checklist (and somehow it remains the most ignored). With a number of viewers rising to 836 million, your music is sure to hit the right music aficionado out there. With TV, your music will not be slendered to a niche audience but any of the music connoisseurs out there would be able to hear your music.
To turn your passion into a profession, Songdew launched Songdew TV that lets your music sway freely and reach the earlobes of people with a taste. Songdew TV reaches about 40 mn people, and is redefining the TV viewing experience for music lovers.
Know how you can get your next music video on TV here .
3.)   Plan a launch tour
This should come as a no-brainer for all the talented folks out there. Doesn't matter if you're releasing a full-length album or a single soundtrack, a planned launched tour works wonders for teasing and creating excitement among masses. Focus on not just the creative part of it but also the technical part like forming a budget, finding a good venue, and all of the above; be sure to put all your heart out.
4.)   Prepare a professional bio
There are no excuses here! Just like a resume defines the desired candidate, your bio will define your personality and inspiration behind your music. You should complete all your profile in all respects, (be it Social Media, Songdew or other streaming platforms) have the correct links available everywhere possible and have a complete bio - that is how people get to know you etc. You need to be a storyteller to make the audience connect with your creation, so, that they feel inspired!
5.)   Know the importance of PR
A PR can make or break your career. It's important to plan your music release before launching any album. Your PR know about the market that serves you best and will put out content according to it. They are well-versed with all the nooks and corners of the media industry and will try their best to put out your music out in front of millions. You need to understand the importance and the role they play while releasing your next album.
It's important to attach all the strings together before putting things out in motion. Make sure to feel content with your creation, and making a sound checklist before releasing your next album.