Back to Previous
Music Review : Kabir Cafe Live by Kabir Cafe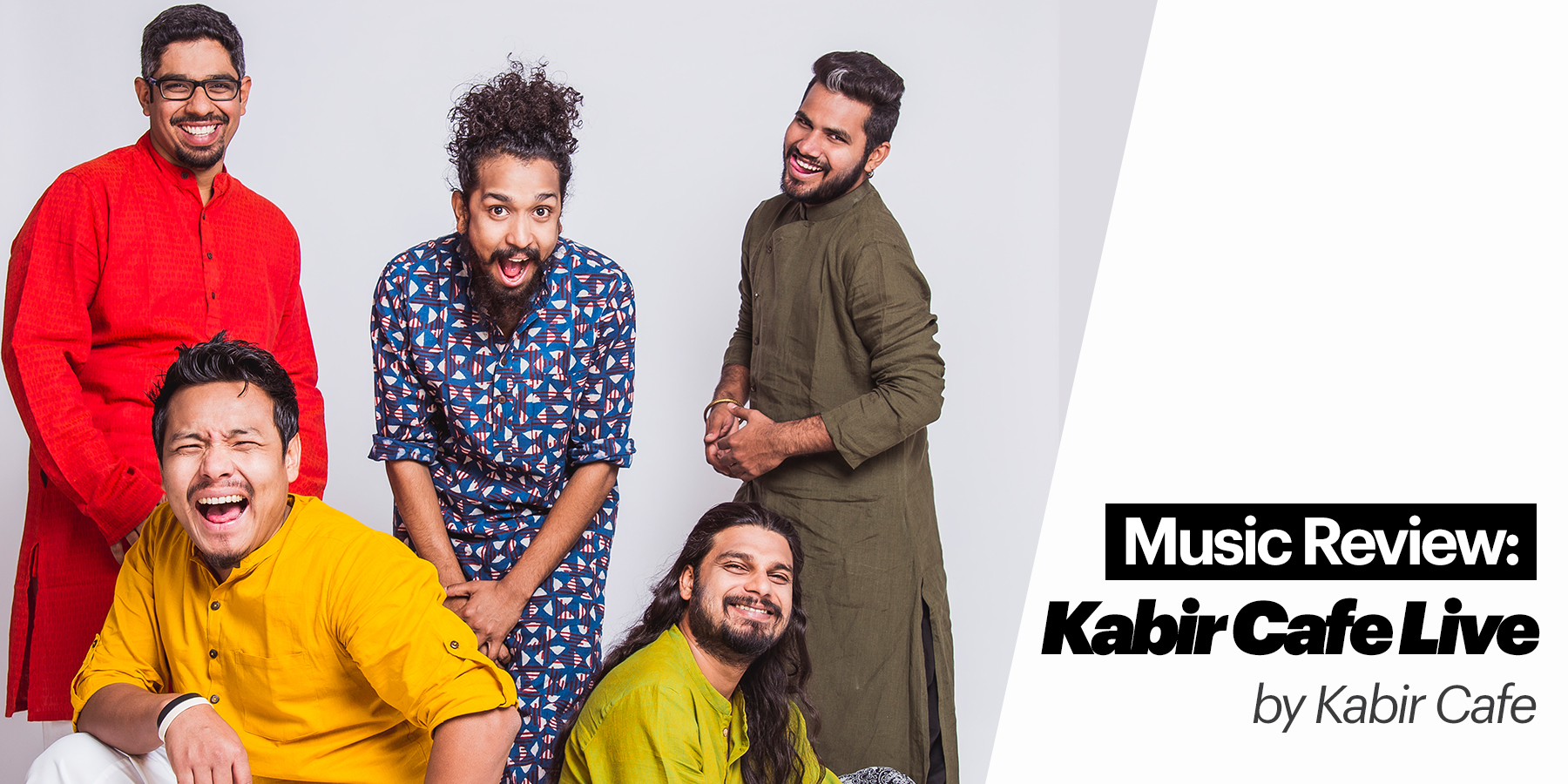 A 5 member Neo-Folk Fusion band, Kabir Café is known for fusing and presenting the age old philosophies of Kabir with a modern feel. They blend different genres of music like Rock, Reggae, Pop and Carnatic and KABIR is sort of their forever and recurring lyric. The band has been there in the Indie music scene for just 4 years and their success story speaks for itself. The band members include Neeraj, Mukund Ramaswamy, Raman Iyer, Viren Solanki and Poubuanpou Britto KC.
Kabir Cafe a phenomenon rather than just a band. Speaking of their album 'Kabir Cafe Live'- is the band's second album and consists of 6 songs that are composed of famous Kabir's couplets. They have collaborated with various amazing artists: Mahesh Chelladurai and Benin Bennet on Guitars, Roshan Aade from Folk Masti on percussions, and Rajat Dawda has contributed with additional vocals.
The album is everything you would expect from a Kabir Café album and more. We assure you, you wouldn't be able to stop listening to this one!
The album begins with 'Amritwani' as the first track. Brimmed with prolific lyrics, the track begins with an intense voice piercing through the silent background, and quickly blends to become a hard rock track. The music constantly swings beautifully between rock and classical. It is one amalgamation that you wouldn't want to miss.
Charkha has been composed with a prodigious use of guitars, violin and drum kit. The enchanting voice on vocals is definitely worth mentioning as that's what makes us enjoy the 'dohas' even more.
My personal favourite from the album, 'Ghat Ghat' has a very different vibe than the rest of the track. For the lack of words, this track makes you feel like you're waking up to a beautiful morning. This piece of incredible music is filled with prominent and touchy lyrics. The solo mandolin piece adds a distinct identity to the track and will stay on your mind for a long time.
With an extremely vibe from the last track, Mann Mast Bhaya will make you groove to its beats. Neeraj Arya's vocals clearly steal this track away. He has sung the track with such ease. This song gives off a very earthly and natural vibe. The power packed track depicts everything we've known Kabir Café for.
There's no doubt that 'Muniya' and 'Waare Jaoon' are the most upbeat tracks of the album. Muniya is a fun, enlightening and soulful track. With soft guitars to upbeat drums and to-die-for violin, the track takes you on a rollercoaster ride with it's swift and smooth changes. 'Waari Jaoon' has a very happy vibe and rightly so. The song talks about the joy felt by the arrival of 'Satguru'.
Kabir Café Live is another feather in Kabir Café's hat. They never cease to surprise. Each track of the album while tied together by Kabir is so unique and different. The album has been running on loop since its launch and I don't think I'm getting over any time soon. Do check it out, Kabir Café Live is definitely one of the best releases of 2018!