Back to Previous
Artist Interview : Multi-Platinum Songwriter & Tony Award-Nominated, Jazz Vocalist Ann Hampton Callaway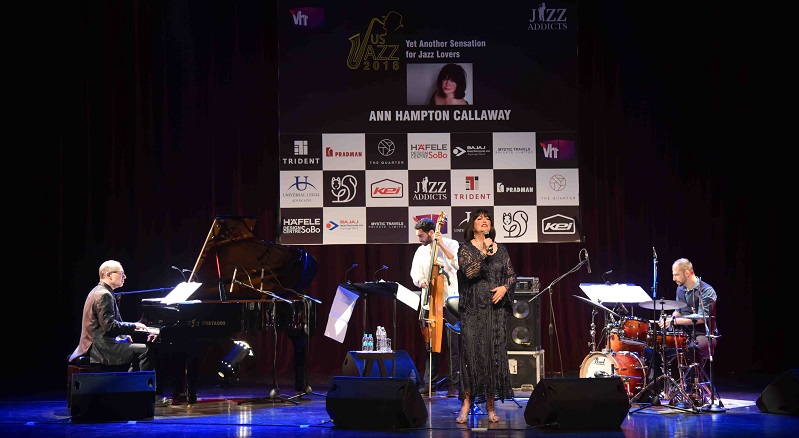 Jazz lovers were in for a special treat couple of weeks ago when the internationally acclaimed American Composer, Song Writer and Vocalist Ann Hampton Callaway performed in Mumbai and Bangalore. 
Ann Hampton Callaway is one of the leading champions of the great American Songbook, having made her mark as a singer, pianist, composer, lyricist, arranger, actress, educator, TV host and producer. She was also recently voted by Broadwayworld.com as "Performer of the Year".
Her unique singing style that blends jazz and traditional pop, making Ann a born entertainer. She is best known for Tony-nominated performance in the hit Broadway musical Swing! Apart from that, writing and singing for the theme song in the hit TV series The Nanny. Callaway is a Platinum Award winning writer whose songs are featured on seven of Barbra Streisand's recent CD's. The only composer to have collaborated with Cole Porter, she has also written songs with Carole King, Rolf Lovland and Barbara Carroll to name a few.
She performed along with Ted Rosenthal, an American Jazz pianist who has performed worldwide with many Jazz Greats including Gerry Mulligan, Art Farmer, Phil Woods and Jon Faddis. Gianluca Liberatore and Aron Nyiro accompanied her on Upright Acoustics Base and Drums as a part of her Jazz ensemble.
We had the pleasure of catching up with Ann, herself, and talk about her journey so far and her recent shows in India. 
Who were your early influencers and idols? How much of an influence did the family's musical interest and abilities have on you?
I grew up loving the jazz greats Ella Fitzgerald, Sarah Vaughan and traditional pop singers like Judy Garland and Barbra Streisand and singer songwriters like Joni Mitchell, Carole King and Stevie Wonder. I was classically trained and my opera favorite was Leontyne Price. I have a book of heroes I made up as a teenager and other inspirations are painters, posters and courageous peace loving leaders like Gandhi. My family was an intergalactic inspiration to me- though my parents got divorced, I marry the talents of my father as a writer and my mother as a singer. Their passion for great music and the arts fired up the longing in my heart to learn, to love and to artistically express myself from the fruits of leaning and living.
You've worked on a lot of exciting projects with some really exceptional artists. Which of these projects are closest to your heart and why? 
Writing my peace anthem At the Same Time for Barbra Streisand and having her reach 6 million people with her recording was an absolute honor and joy. Writing a song in the studio the day of my recording with Carole King and singing with her was one of the happiest days of my life- she inspired me to become a songwriter and her encouragement of me as an artist changed my life.
It's wonderful to know that you will be accompanied by Ted Rosenthal for your debut shows in India. How has this entire collaboration experience with Ted been so far? 
Ted is a brilliant pianist and our connection on the bandstand is magical. He brings so many gifts to the art of accompaniment and our years of friendship add to the feeling in the music. When music comes from love, it creates Love which is why we are here on earth.
You've mentioned that this is a bucket-list trip for you. Is there anything, in particular, you are looking forward to the most?
I want to get to know India today- how it's rich cultural and spiritual heritage has made its impact in the modern world. I also hope to meet some Indian musicians and improvise with them. It would shake up my habits and create new possibilities.
What advice would you give to upcoming jazz artists in India? 
Work hard on your craft, learn from the great artists who came before and have the courage to find your own voice and tell your story!